Martina Luke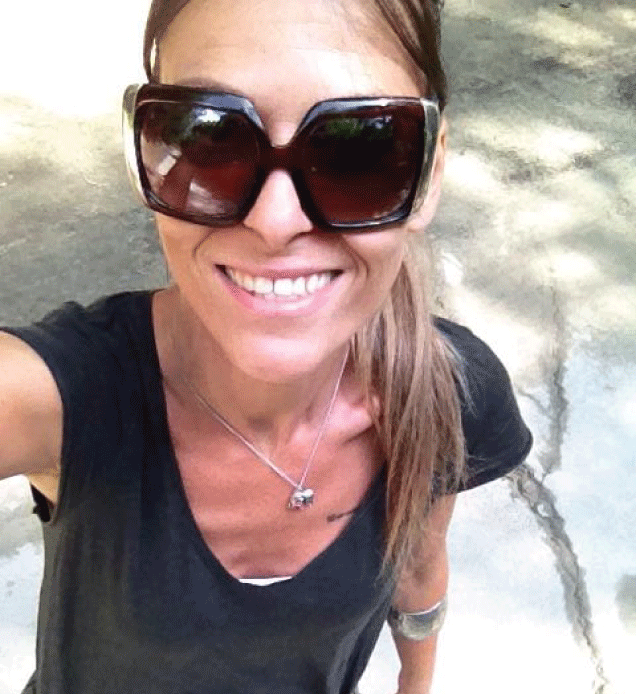 EN Martina Luke opened her Peacecenter in 2015, her vegan Restaurant "DELICIOUS", in a fancy Area in Vienna, downtown directly by the Naschmarkt. It was a Microbistro in an Area full of not vegan Restaurants, high frequency, she wantet to spread the vegan Message in this popular Mainstream Area. A

nd she wanted to bring people closer to the new modern, creative and very healthy vegan food

. After 3 years on the Naschmarkt she moved with her Bistro in the alternative and also very fancy Area in the 7th District. The DELICIOUS offers 100% vegan, creative, modern, really healthy & clean food with intelligent & pure ingredients, which are all completely gluten-free and sugar-free. Also raw vegan food, bowls, superfoods, smoothies, raw cakes & cookies. Daily open 11.30 – 22.00
DE Martina Luke eröffnete 2015 ihr Peacecenter, ihr veganes Restaurant "DELICIOUS", in einer sehr hippen Lage in Wien direkt am Naschmarkt. Es war ein Mikrobistro in einer absoluten hippen Mainstream Gegend, super frequentiert, voll mit nichtveganen Restaurants, ein Hotspot in Wien im Zentrum der City. Sie wollte die vegane Message in dieser hochfrequentierten Gegend verbreiten. Und sie wollte den Menschen das neue moderne, kreative und sehr gesunde vegane Essen näher bringen. Nach 3 Jahren am Naschmarkt zog sie mit ihrem Bistro in die alternative und auch sehr beliebte Gegend im 7. Bezirk. Das DELICIOUS bietet 100% veganes, kreatives, modernes, wirklich gesundes & natürliches Essen mit intelligenten & reinen Zutaten, die alle komplett gluten- und zuckerfrei sind. Auch rohes veganes Essen, Bowls, Superfoods, Smoothies, rohe Kuchen und Kekse. Täglich geöffnet 11.30 – 22.00
♡ Contact/ Kontakt Tel.: +43 (0) 677 617 033 72 1070 Wien, Bandgasse 26/1
Email: office@delicious.or.at
Web: www.delicious.or.at
♡ Facebook: https://www.facebook.com/Delicious-ve…
♡ Instagram: delicious_vegan_Bistro
♡ Youtube: ☆I OPEND A VEGAN RESTAURANT ☆
EN
She has always been involved in nutrition and became a vegan in the spring of 2012 for ethical reasons and lives "vegan straight edge"

(vegan, no alcohol, no cigarettes, no drugs, no chemistry). Since becoming a vegan, she has worked intensively with the vegan lifestyle,

created more and more new recipes and calls her food: "healthy, creativ, pure, modern & intelligent diet that tastes very good".
She is eating and offers pure food (clean food) with natural ingredients, without sugar & chemistry, such as flavor enhancers, E-numbers, Glutamate. 
It is sweetened with dates.

DELICIOUS offers:
♡ raw black Quinoawrap with Beet Root Spaghetti, Avocado, Arugola Salad (Rocket Salad), Pomegranate, Almondcream & Pesto
♡ black Rice Noodles with Sweetpotatoespaghetti, Arugola, Avocado

♡ 3x Quinoa with Peanutcream & Sweetpotatoespaghetti, Avocado, Arrugola, Pesto, Sesame

♡ black Quinoapizza or Pizza with selfmade Cashewmozzaerella

♡ Rawcakes

♡ Delicious Salad with Sweetpotatoespaghetti, Arugola, Pesto, Avocado & Almond-Balsamicodressing
In 2012 she discovered the organicworld, a new fascinating world with an incredible number of healthy and good products, a variety of food.
Vegan and raw vegan food dishes combined with superfoods that have the highest nutrient content of nutrients, smoothies, drinking coconut water, Herbs Tees and clear water 
is the only right diet for her. You feel light, clear in the head, strengthened & fit, you need less sleep.

With her cookbooks, her bistro, online-courses & workshops, she wants to reach more people with demanding, healthy and ethical food. 
Before that, she was a realestate agent for 18 years. After the broker examination also with own company. 
In the long run, she has successfully brokered top loft apartments and apartment buildings to buyers such as bank director, chief prosecutor, 
chief of police, property developers, lawyers, actors, artists, Freelancers, students, etc.

Since she became a vegan in 2012, it's all about her new way of life.

The vegan lifestyle is based not only on the diet, but includes the rejection of animal exploitation, environmental degradation and world hunger problem! 
The health bonus is then given as a gift ♡ This website is an initiative by Martina Luke to bring more people closer to the positive aspects of the vegan & negative nonvegan 
way of life and to have a more affectionate and responsible use of animals and our precious Mother Earth.
DE
Ihr Bistro heißt "Delicious vegan Bistro" 
Sie hat sich immer schon mit Ernährung beschäftigt und wurde im Frühlig 2012 aus ethischen Gründen Veganerin und lebt "vegan straight edge" (vegan, kein Alkohol, keine Zigaretten, keine Medikamente, keine Chemie).
Sie hat sich seitdem sie Veganerin wurde intensiv mit der veganen Lebensweise beschäftigt, immer mehr neue Rezepte kreiert und nennt Ihre Speisen: "gesunde, kreative, moderne & intelligente Ernährung die sehr gut schmeckt". Sie möchte reine Nahrung (clean Food) essen und anbieten mit natürlichen Zutaten ohne Zucker & Chemie wie Geschmacksverstärker, E-Zusätze, Glutamate, Ascorbinsäure usw.

Im Delicious gibt es kreative, moderne & gesunde Speisen wie zb
♡ schwarzen Rohkost Quinoawrap mit rote Rüben Spaghetti, Avocado, Rucola, Granatapfel, Mandelpüree & Pesto, ♡ Bowls, ♡ black Rice Noodles, ♡3x Quinoa mit Erdnusscreme & Süsskartoffelspaghetti, Rucola, Avocado, Pesto ♡ schwarze Quinoapizza oder Pozza mit selbstgemachter Cashewmozzarella, ♡ Pho mit Shitake Pilzen, Algen, Reisnudeln, Miso, Süsskartoffelspaghetti ♡ Rawmisu, ♡ Rohkost Torten ♡ Delicious Salat mit Rucola, Süsskartoffelspaghetti, Pesto, Avocado & Mandel-Balsamicodressing, gesüsst wird mit Datteln und es wird kaum Öl verwendet.
2012 entdeckte sie die Biowelt, eine neue faszinierende Welt mit unglaublich vielen gesunden und guten Produkten, eine Vielfalt an Nahrungsschätzen.
Vegane und vegane Rohkost Speisen kombiniert mit Superfoods, die den höchsten Nährstoffanteil an Vitalstoffen haben, Smoothies, Trinkkokosnusswasser, Kräuter Tees und klares Wasser ist für sie die einzig richtige Ernährung. Man fühlt sich leicht, klar im Kopf, gestärkt & fit, braucht weniger Schlaf.
Mit ihren Kochbüchern, You Tube Channel, ihrem Bistro, Onlinekursen & Workshops, möchte sie mehr Menschen damit erreichen sich anspruchsvoll, gesund und ethisch zu ernähren. Davor war sie 18 Jahre lang Immobilienmaklerin. Nach der Maklerprüfung auch mit eigener Firma. Sie vermittelte in der langen Zeit erfolgreich Top Dachgeschosswohnungen und Zinshäuser an Käufer wie zb Bankdirektor, Oberstaatsanwältin, Polizeichef, Bauträger, Rechtsanwälte, Schauspieler, Künstler, Unoangestellte, Studenten usw..
Seitdem sie Veganerin 2012 wurde drehte sich alles nur mehr um ihre neue Lebensweise.
Die vegane Lebensweise beruht nicht nur auf der Ernährung, sondern beinhaltet die Ablehnung der Tierausbeutung, der Umweltzerstörung und Welthungerproblematik! Den gesundheitlichen Bonus bekommt man dann als Geschenk dazu ♡ Diese Website ist eine eigene Initiative von Martina Luke mehr Menschen die positiven Aspekte der veganen & negativen der nichtveganen Lebensweise näher zu bringen sowie einen liebevolleren und verantwortungsbewussteren Umgang mit Tieren und unserer wertvollen Mutter Erde zu haben.